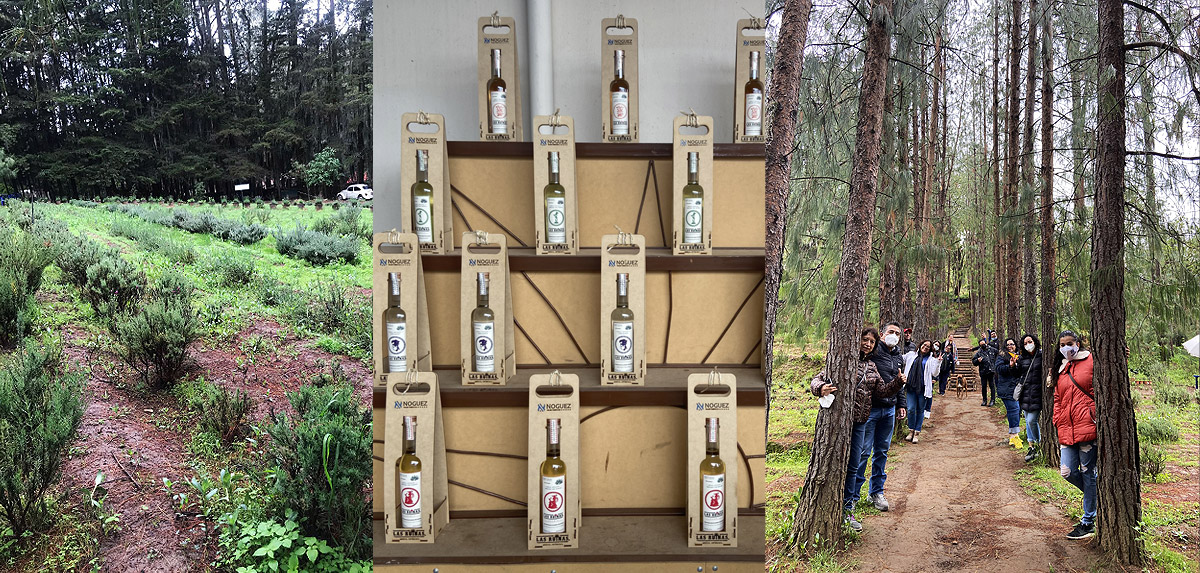 Tour del Agave y Lavanda
Agave and Lavender Tour
DESCRIPCIÓN DEL TOUR / TOUR DESCRIPTION
La cita es a las 6:00 am, en el Ángel de la Independencia, la salida del transporte será a las 6:30 rumbo al Rancho de la Lavanda.
Al llegar al Rancho, podrás disfrutar de un rico pan de lavanda con café. Después se realizará la visita del rancho y se conocerán sus diferentes tipos de Lavanda. En este punto disfrutaremos de un delicioso desayuno campirano (NO INCLUIDO), posteriormente nos dirigiremos a Tecalli y Tepeaca. Al llegar a Tecalli, disfrutaras del Taller de Ónix y su proceso.
Después nos dirigiremos al lugar donde podrás ver el proceso de la ruta del mezcal, donde podrás darte cuenta de cómo se procesa, desde la plantación del agave hasta la degustación.
Finalmente disfrutamos de la comida en el lugar (INCLUIDO) y, a la hora establecida, regresaremos a la CDMX. La hora de llegada aproximada será a las 21:00 hrs. al Ángel de la Independencia.
The appointment is at 6:00 am, at the Angel of Independence, the departure of the transport will be at 6:30 towards the Rancho de la Lavanda.
Upon arrival at the Ranch, you can enjoy a delicious lavender bread, with coffee. Then the ranch will be visited and its different types of Lavender will be known.
At this point we will enjoy a delicious country breakfast (NOT INCLUDED), later we will go to Tecalli and Tepeaca. Upon arrival at Tecalli, you will enjoy the Onyx Workshop and its process.
Then we will go to the route where you can see the process of the mezcal, where you can see how it is processed, from the agave planting, until you taste it!
Finally we enjoy the food in the place (INCLUDED) and at the established time, we start the return to CDMX. The approximate arrival time will be at 9:00 p.m. at the Angel of Independence.
 EL PAQUETE INCLUYE / PACKAGE INCLUDED
Transporte terrestre de turismo
Recorrido del Rancho de la Lavanda y degustación de pan y café
Visita y proceso de Mezcal (degustación)
Comida incluida.
Coordinador de grupo.
El precio NO INCLUYE:
Propinas
Gastos personales
Desayuno y/o bebidas durante el tour
Nota: Sujeto a disponibilidad hasta no pagar la reserva, el tour puede modificarse de día u hora debido a cambios climatológicos o alguna situación ajena a la empresa.
Tourism ground transportation

Tour of the Rancho de la Lavanda and tasting of bread and coffee

Visit and process of Mezcal (tasting)

Lunch included.

Group coordinator.
Price does not include:
Tips

Personal expenses

Breakfast and/or drinks during the tour
Note: Subject to availability until the reservation is paid, the tour can be modified day or time due to weather changes or some situation outside the company.
Costo por persona / Cost per person: $1,080.00 mxn
Niños menores de 3 años: $0 mxn (sin asiento)
Kids under 3 years: $0 mxn (no seat)
¡Reserva, paga y viaja! / Book, pay & travel!
Completa el formulario para reservar el Tour (48 hrs. antes) y al enviarlo serás dirigido a la página de pago 100% seguro con PayPal. No realices tu pago si no recibes el correo de confirmación de la reservación.
Complete the form to reserve your Tour (48 hrs. before) and when you send it you will be redirected to the payment page 100% secure with PayPal. Do not make your payment if you do not receive the reservation confirmation email.
Al enviar mis datos acepto que he leído y estoy de acuerdo con lo estipulado en nuestro Aviso de Privacidad.
PAGO 100% SEGURO / 100% SECURE PAYMENT
Antes de realizar su pago revise que haya llegado la confirmación de reservación a su correo-e.
Before making your payment, check that the confirmation of the reservation has arrived in your email.
Términos y Condiciones / Terms & Conditions
Viajes Turísticos Noguez, tiene el compromiso de apegarse al itinerario del viaje.
El tipo de transporte (Camioneta de Turismo) queda sujeto al número de Pasajeros para la salida de este Viaje.
No. de pasajeros: 13 a 20 personas
Vehículo asignado: Sprinter, Crafter o similar.
En caso de ser mas de 20 pasajeros se asignara otra camioneta sprinter, crafter o similar.
Cualquier Servicio no Utilizado Voluntariamente por el cliente, no dará derecho a reclamación o Reembolso.
En caso de retraso a la hora de la salida en la CDMX por parte del cliente dispondrá de 15 minutos de tolerancia de la hora de salida, después de esto NO podrá esperar más al cliente y por consiguiente NO habrá devolución alguna por parte de VIAJES TURISTICOS NOGUEZ.
Para confirmar su lugar, es necesario realizar la reserva y pagarlo, por lo menos 48 hrs antes del servicio.
En caso de cancelación por parte del cliente está sujeto a lo siguiente:
-Si es antes de 15 días de la fecha de Salida del Viaje, Estará libre de Penalizaciones.
-Si es dentro del los 15 a los 9 días de la Salida del Viaje, tendrá una penalización del 50% del Anticipo.
-Si es dentro de los 8 días de la salida del Viaje, No abra reembolso Alguno.
El hecho de que el cliente realice el pago por el programa que haya elegido, implica su aceptación de las condiciones y responsabilidades contenidas en esta publicación.
Por cuestiones Ajenas a Viajes Turísticos Noguez, como cuestiones Naturales y/o de Salud o Inseguridad, Viajes Turísticos Noguez no se hace responsables de lo que esto ocasione y contactara al CLIENTE para buscar una solución, proponiéndole una nueva fecha de viaje, quedando el pago del su viaje en resguardo de VIAJES TURISTICOS NOGUEZ hasta la realización del servicio en la nueva fecha.
Si existe algún retraso en las vialidades, no es Responsabilidad Viajes Turísticos Noguez.
Una vez realizada la reserva y pagada, se le enviara un correo con la confirmación de la reserva y podrá darle seguimiento a su reserva, por cualquiera de los diferentes medios de comunicación (Whatsapp, Correo electrónico y/o mensaje de texto).
Al realizar la reservación y pago del Tour, declaro que he leído y estoy de acuerdo con el

Aviso de Privacidad

y los Términos y Condiciones de Travel Manía México, S.A. de C.V.
Viajes Turísticos Noguez, is committed to stick to the itinerary of the trip.
The type of transportation (Tourist Van) is subject to the number of passengers for the departure of this trip.
No. of passengers: 13 to 20 people
Vehicle assigned: Sprinter, Crafter or similar.
In case of more than 20 passengers, another sprinter, crafter or similar will be assigned.
Any service not used voluntarily by the client, will not give right to claim or refund.
In case of delay at the time of departure in the CDMX by the customer will have 15 minutes of tolerance of the departure time, after this you can not wait more customer and therefore there will be no refund by VIAJES TURISTICOS NOGUEZ.
To confirm your place, it is necessary to make the reservation and pay for it, at least 48 hrs before the service.
In case of cancellation by the customer is subject to the following:
-If it is before 15 days of the departure date of the trip, it will be free of penalties.
-If it is within 15 to 9 days of the departure date of the trip, it will have a penalty of 50% of the advance payment.
-If it is within 8 days of the departure date, there will be no refund.
The fact that the client makes the payment for the program he/she has chosen, implies his/her acceptance of the conditions and responsibilities contained in this publication.
For reasons beyond Viajes Turísticos Noguez's control, such as natural and/or health issues or insecurity, Viajes Turísticos Noguez is not responsible for what this may cause and will contact the CLIENT to find a solution, proposing a new travel date, leaving the payment of the trip in the custody of Viajes Turísticos Noguez until the completion of the service on the new date.
If there is any delay in the roads, it is not Viajes Turisticos Noguez responsibility.
Once the reservation is made and paid, you will be sent an email with the confirmation of the reservation and you can follow up your reservation, by any of the different means of communication (Whatsapp, Email and / or text message).
By making the reservation and payment of the Tour, I declare that I have read and agree with the Privacy Notice and the Terms and Conditions of Travel Manía México, S.A. de C.V.
Translated with www.DeepL.com/Translator